Printing: Slipcases (O-card)
Slipcase (O-card) is a cardboard cover for the cassette itself or for the cassette box. Cassette slipcase serves as a box and a cover, and box slipcase is an additional design element. O-cards are printed on 300 g/m² cardboard with matt or gloss lamination or on touchcover paper. Normally they have one-sided printing, but we can also print on the inner side.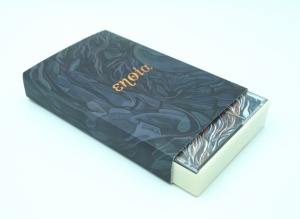 FAQ
Color scheme: CMYK.
Preferred resolution 300 dpi or more.
Fonts should be embedded - rasterized or outlined.
Trim and folding marks must be vector lines placed in separate layer. In case you don't know how to do this, just delete those lines.
Bleed area should be 3 mm each side.
Text and significant elements should be placed at least 2 mm inside the cut line.
Preferable file format is PDF.
Templates
Cardboard slipcase for cassette boxes with codes ***2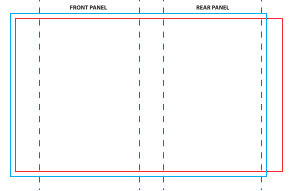 Prices
300 g/m2 paper with mat or glossy lamination:
| | from 50 pcs | 30—49 pcs | 20—29 pcs | 10—19 pcs | 5—9 pcs |
| --- | --- | --- | --- | --- | --- |
| one-sided printing | 67 | 75 | 91 | 150 | 250 |
| two-sided printing | 100 | 113 | 127 | 195 | 300 |
Soft touch lamination:
| | from 50 pcs | 30—49 pcs | 20—29 pcs | 10—19 pcs | 5—9 pcs |
| --- | --- | --- | --- | --- | --- |
| one-sided printing | 77 | 85 | 101 | 160 | 260 |
| two-sided printing | 120 | 133 | 147 | 215 | 320 |