Printing: Stickers
It is hard to identify a tape without cover, if it doesn't have a sticker or pad printing on its shell. Normally we print stickers on 80—100 micron matted film, also we can use glossy or transparent film, and to add some flair, stickers can be laminated (matt, gloss, touchcover). Note that cassette shells may differ in size of surface available for stickers, so as templates do. Feel free to contact us if you are not sure which template to use.
Besides cassette shell stickers, we can produce stickers of any shape to complement your release.
FAQ
Color scheme: CMYK.
Preferred resolution 300 dpi or more.
Fonts should be embedded — rasterized or outlined.
Crop marks must be vector lines placed in a separate layer. In case you don't know how to do this, just don't include those lines in the final file.
Bleed area should be 3 mm each side, meaning that the background image will be 6 mm wider and higher than planned sticker size.
Text and other significant elements should be placed at least 2 mm inside the crop line.
Preferable file format is PDF.
To choose the correct template for stickers consult the FAQ section on our site.
Example
For printing stickers for a black cassette with screws you can send us a picture of 96×47 mm without crop lines: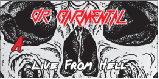 Note that 3 mm from each side will be cut off and there will be an oval or two round cut-outs for the tape reels.